Atelier Meridian is a working print studio and artist community at the River Street Studios, right on the Willamette River just off Interstate Avenue, near Widmer Brewery. 820 N. River Street, Studio B-1. (Turn West onto Tillamook from Interstate Ave. Take 3 rights and a left and drive behind the building. We are facing the river in Studio B-1 on the North corner.) It is a spacious art studio with 24 hour access to the presses for members, and goodwill to artists and the curious who drop in for the occasional workshop, monotype session, or cup of tea.
Behind the wall of accordion garage doors live two big Takach etching presses; an Ettan etching press; a Kelsey letterpress; and shelves of all those other pins, brayers, rosin boxes, rollers, and smushers helpful for pulling woodcuts, collographs, etchings (there's acid), solarplates, screenprints, letterpress and monotypes.

You may work independantly or hire a printer to teach you privately or semi-privately any form of printmaking you'd like to learn. Or ask us to print an edition for you. Bring a friend or two and make art together in a pre-arranged mini-workshop! Maximum 3 students and one or two printers allowed in the shop at one time.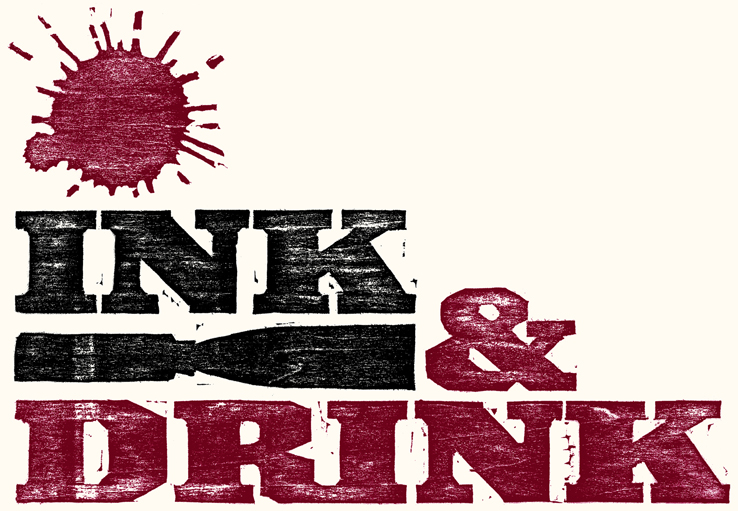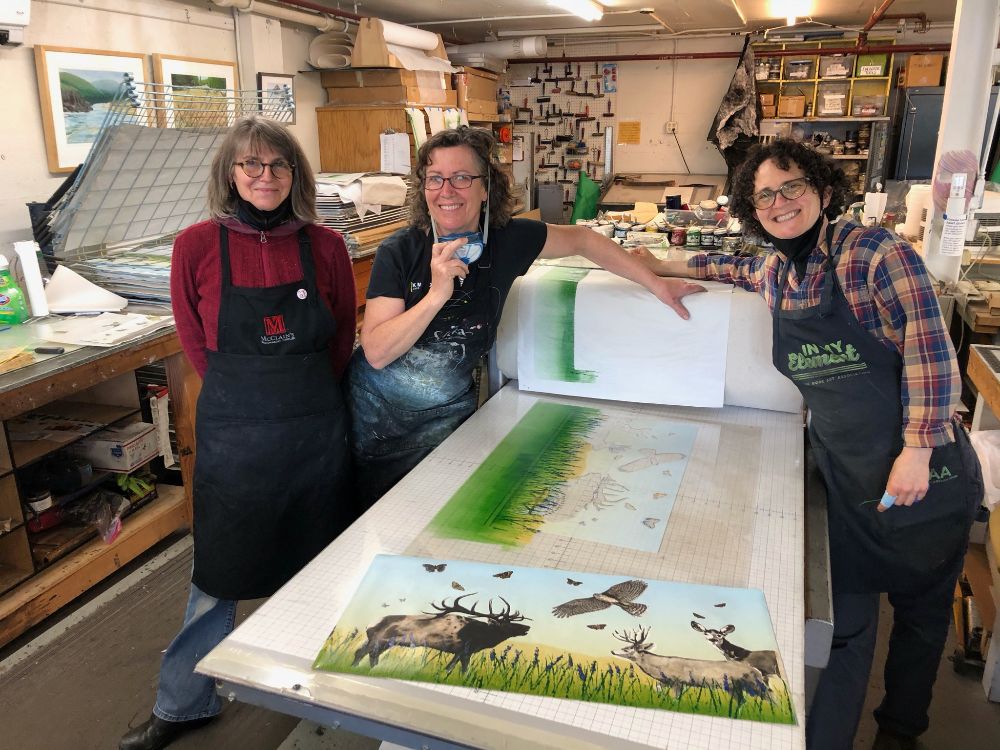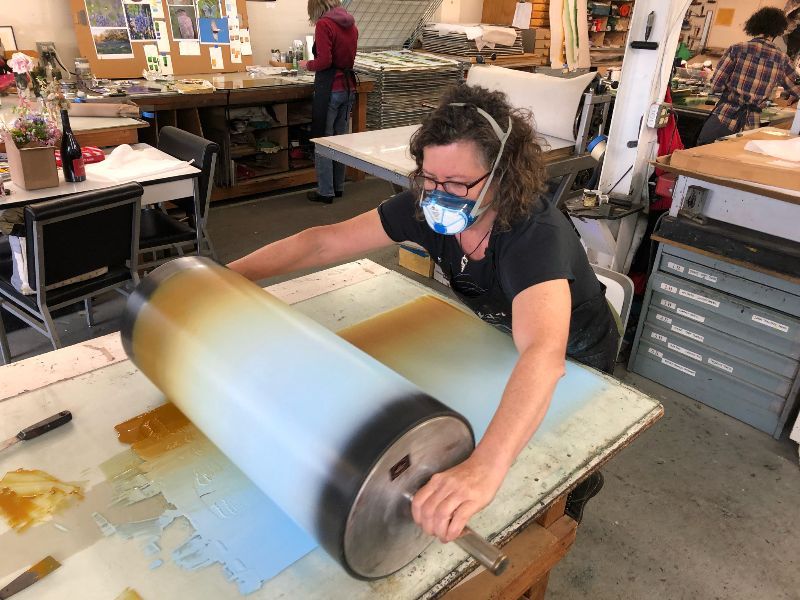 FRIDAY, December 3 - 5 to 9 pm
Diane Jacobs: "Owed to the Mountain"
New Artist Book & Solarplate etchings
Owed to The Mountain cultivates a powerful story that inspires knowing a place deeply, sharing Indigenous wisdom, and building a community that turns its love for a mountain into action. Artist Talk at 7 pm
Diane Jacobs will talkin-depth about her print collaboration with Jane Pagliarulo at the Atelier, and she will likely elaborate on why we owe it to the mountain.

A good print studio runs on comraderie as much as its fine presses. On the occasional Friday everyone is invited – members and gawkers alike – to come in and have those conversations you'd meant to have during the week but found your head too deep in the acid to engage. There will be drinks and snacks and Someone Special coming in to show and tell something you'd been wondering about anyway. Ink & Drink.
-------------------------------------------------------------------------------------------
Workshops are BACK! Find more details on our Workshops Page.
December 18 & 19 - Letterpress & Linoleum block holiday card printing workshop!

Letterpress Printing 2 day Workshop February 5 & 6.
Linoleum Block Printing Workshop March 12 & 13.
Letterpress / Lino Block Printing Combo Workshop April 9 & 10
-----------------------------------------------------------------------------------
COVID-19 Update: Atelier Meridian is committed to maintaining a safe and healthy environment for our printmaking community.
We are currently open to members and Four-punch pass holders and the print shop continues to thrive! All workshops are postponed until January 2022, at which time we will re-asses the situation.
Here are protocols we have in place to protect artists:
Vaccination required. 100% of our members currently are vaccinated. Exemptions are available for those with a valid medical reason.
Masks are still mandated by Multnomah County and the State of Oregon *
Sanitize and wash your hands often.
Wipe down shared tools and high touch surfaces at the end of session.
We have two air purifiers running in the studio. Make sure to check if they're turned on.
Google Calendar sign-up required for sessions, maximum 4 artists at once
Contact Jane to be invited to join the calendar.

* Atelier Meridian will provide face masks and gloves if need be.

Here's what you can do to help us:
• Stay home if you feel ill. Reduce contact by working at home or your own studio if there is any question about your health.
• Full-time Members are welcome to use the shop as per usual, provided they take the aforementioned measures.
• Punch-pass holders may now use the shop, provided they take the aforementioned measures.
• Purchase a membership as a gift for someone or for you to use later to help us survive the economic impact.

As always, the health, safety and well-being of our members, our students and our communities is of paramount concern. We continue to monitor this quickly evolving situation and are here to assist our members, customers and students as needed.
Anchored among the worktables and inks is master printer and co-founder Jane Pagliarulo. Good to have on hand either in the backcountry or at the wheel, Pagliarulo brings years of experience in monotype, etching, and lithography from the plateaus of Santa Fe and the valleys of the Cascades.

If you would like to stop by to tour the studio, call Jane at 503-729-9013.

Find us on and join our mailing list to be informed about special events and workshop updates.
Atelier Artist members showing in Beaumont!
Breeze & Branch is home store in NE Portland, OR focused on local makers & artists, quality furniture, and sustainability in the home and craft.

4605 NE Fremont St, Portland OR
See work by James Deboer, Jessica Hartman, Daniel Jasa, Christian Johnson, Kent Kirkpatrick, Barbara Mason, Jane Pagliarulo, John Stephenson, and others.

Atelier Meridian offering Printmaking Residencies

Whether you are seeking uninterrupted studio time to focus on a project, or inspiration during a transitional time in your career, Atelier Meridian can tailor an experience to suit an artist's individual needs. Residencies provide established and emerging artists opportunities to realize printmaking projects through 24/7 access to equipment, and creative support. Master Printer Jane Pagliarulo is able to offer collaborations or help with editioning. Contact Jane to set up a paid printmaking residency lasting from a week to a month.

La Buca - Group Show -
Prints from
the Meridian
Now through 2022

La Buca Italian Restaurant
40 NE 28th Ave
Portland
Open 5 to 9 PM every day
-----------------------------------------------------------------------------------------------------
Atelier Meridian is thrilled to announce an exciting collaboration between WhitPrint and Print Arts Northwest [PAN]. Together, we have created a brand new print exchange project: Emerald Print Exchange!
The exchange is open to fine art printmakers across the country -- spread the word! Participation is limited to the first 200 registrants so don't delay. For only $35, you receive 10 original prints from other artists in exchange for your edition of 12. WhitPrint and PAN will each retain 1 print from every edition, which will be used for raising awareness and funds for both non-profit organizations. The collections may be exhibited and available for sale at venues in Eugene, Portland, and/or nearby areas. For details and to sign-up, visit Whiteaker Printmakers' Web site - www.whitprint.com/about/emerald-print-exchange-2019
---------------------------------------------------------------------------------------------------------
FREE FRIDAYS: If you take a workshop from Atelier Meridian then you get to come in and print unassisted, free every Friday for the next two months. Includes brown & black ink, solvents & newsprint. Click here to find out about upcoming workshops.


We are running a winter special for new members -
Bring a Trio of printmakers and all 3 will get half price membership for winter! For details, click here. TRIO*
Even if you're not an artist, perhaps you know one. Give the gift of printmaking! Atelier Meridian has gift certificates available in any denomination. Choose a dollar figure or fill in the blank with a month of membership, an 8-punch pass, or choose a workshop. It's easy! You can pay by Paypal and we can e-mail you a pdf gift certificate.

©2021 Atelier Meridian Fine art printmaking studio - 820 N River St. Studio B-1 Portland, OR 97227- Tel 503-729-9013