The people behind the printmaking studio have a vision to integrate and coordinate the talents of many artists and printmakers. A key goal underlying the vision is to promote the practice of printmaking by providing a studio equipped with the tools to create etchings, collagraphs, monotypes, woodcuts, and other forms of printmaking. Our vision also includes integrating the educational needs and desires of local organizations, from all walks of life, and all ages. We wish to provide a creative outlet for community members through workshops and memberships.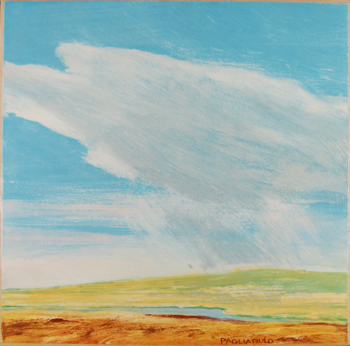 Jane Pagliarulo,

Master Printer and Studio manager
As co-founder and Master Printer of Atelier Meridian, Jane teaches printmaking workshops in monotype, etching, woodcut and collagraph, and performs contract printing of editions and assisted monotype sessions. She received her BFA from University of Massachusetts at Amherst in 1987. A year of study at Exeter College of Art and Design led to extensive travel in Europe, working as an artist in London and Italy. From 1989 to 1996 she worked as a fine art printer at Hand Graphics in Santa Fe, New Mexico, where she printed lithographs, woodcuts, etchings, and photogravures. As head Monotype printer she worked one-on-one in creative collaboration with artists who had tremendously varied conceptual and technical approaches. Among them were Carol Anthony, Allen Ginsberg, Edgar Heap of Birds, Robert Kelly, Emily Mason, Richard Tuttle and Emmi Whitehorse. In 1996 Jane moved to Oregon to work as an independent survey forester and an outdoor guide. She also taught printmaking as an Artist in Residence in Hood River County schools. She co-founded a printmaking workshop in the Alpinee Hut in Hood River from 2000 to 2006. She exhibits nationally and is represented in Portland by the Portland Art Museum Rental Sales Gallery and Print Arts Northwest, where she also serves as a member of the board.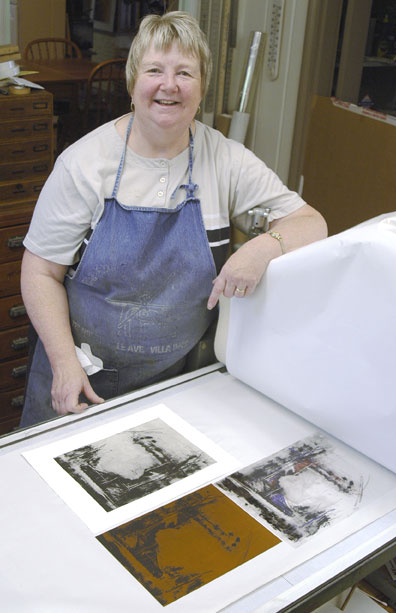 Barbara Mason, education director and co-founder, is an artist/printmaker most often working in her printmaking studio in Hillsboro, Oregon. She is a member of Print Arts Northwest (PAN) and Seattle Printmakers. Barbara has been making monotypes since the early 80s, and 10 years ago included solar plate intaglio prints in her portfolio. Barbara is an arts advocate and active in the community. Serving 8 years on the board of the Vivian and Gordon Gilkey Center for Graphic Arts at the Portland Art Museum, she was also a founding board member of Art in the Pearl, an outdoor community arts fair taking place on Labor Day Weekend. She has been on the board of Crow's Shadow Institute of Art on the Umatilla Indian Reservation, the board of the Washington County Museum and the Hillsboro Arts and Cultural Council as well as the Cultural Coalition of Washington County. She is currently an artist at Waterstone Gallery, an artist owned gallery, in The Pearl District of Portland and a member of Sequoia Gallery where she has a studio in Hillsboro OR. Barbara has shown her work nationally and internationally for the last 35 years. Her works are in the collections of the Portland Art Museum, Intel Corporation, Crow's Shadow Art Institute, the Spencer Museum of Art in Lawrence, Kansas, the New York Public Library Collection, the National Museum of Kampala, Uganda, the Applied Sciences University of Amman Jordan and numerous private individuals and corporations. Barbara's formal education is from the University of Washington, Oregon College of Arts and Crafts, Portland State University, Pacific Northwest College of Art, and Marylhurst University. Barbara was the recipient of the Ray Trayle Print Prize for 2016.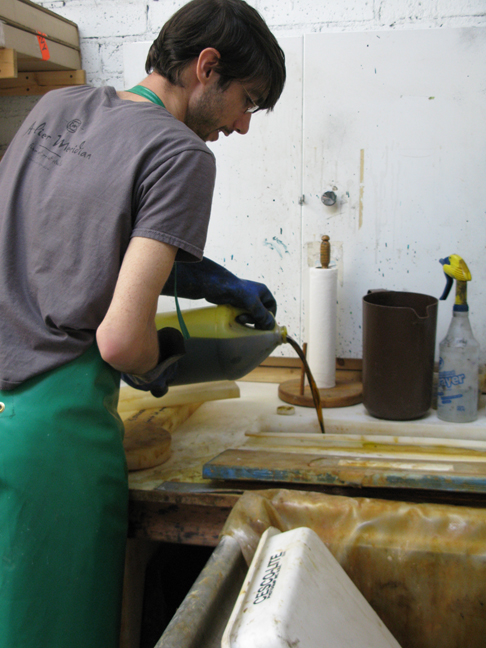 Daniel Jasa is our resident etching instructor at Atelier Meridian. Daniel Received an MFA from Northern Illinois University. Previously he studied at the Pacific Northwest College of Art under the tutelage of Tom Prochaska, Morgan Walker, and Christy Wycoff, but much of his exploration in printmaking happened at the Art Students League of New York where he was also a Printmaking Monitor for 3 years. As a Monitor, Daniel taught printmaking fundamentals to students of all walks of life and experience levels. Upon returning to Portland in 2009, Daniel became a member of Print Arts Northwest (PAN) where he is on the Committee for Outside Exhibitions. He also participates in outreach programs for PAN such as Art in the Pearl and the 2009 Cornelius Children's Day Celebration. He was Artist in Residence at Atelier Meridian from June 2009 to January 2010, and made numerous improvements to the shop to accommodate our etching students. He was the featured artist at our January 2009 Ink&Drink celebration, and teaches a unique sugarlift workshop. In addition, Daniel hosts our weekly etching workshop from 6-9pm every Tuesday evening. Daniel's artwork can be seen at the Portland Art Museum's Rental Sales Gallery, PAN at the Washington County Museum, and PAN's satellite gallery at Framers Resource.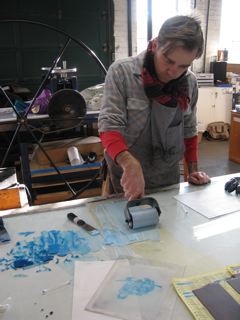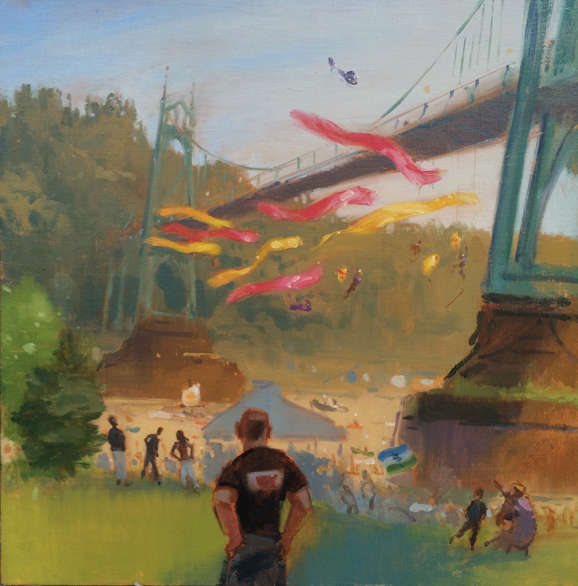 Gabriel Liston Gabriel Liston paints in a tiny backyard greenhouse and on location. He works from site panels and notebook drawings. He was raised in Western Colorado and in 1995 moved to Oregon with his family to finish his degree at PNCA. He paints as a first-person, true-facts-only, yarn-spinner on the intersection of water history and domestic life. He is represented in Portland by the Froelick Gallery and Plus Gallery in Denver. Pictures of his pictures are at lastwater.net.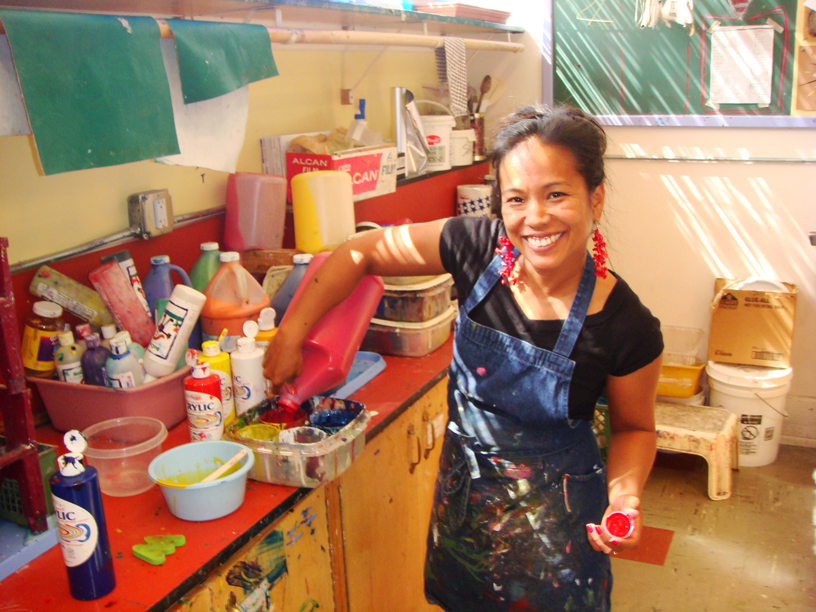 Palmarin Merges is an artist whose work draws from the desire to become more sustainable by re-using materials close at hand and by adapting restriction as a generative force for creation. Working primarily in mixed media, printmaking, and painting, common materials formed from the fabric of her daily life are processed then transformed into new work. Raised in Hawaii and California and spending considerable time in Japan, she incorporates the rich visual languages of her experiences with the inspiration of the natural beauty of her adopted home state of Oregon.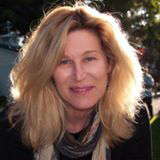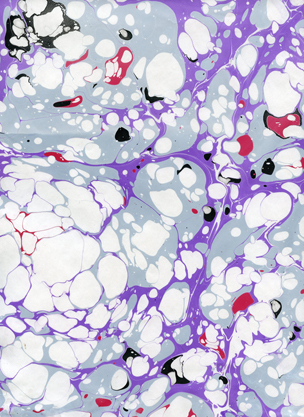 Patricia Varga is a communicator and artist who uses words and images, and other forms of art to inspire, empower, teach, and facilitate creativity and healing in cancer patients, their families, health care providers and practitioners. She is founder and President of the Women with Wings Foundation, and creator of the Create to Heal™ program. www.womenwwings.org. She is also a media executive with thirty years of magazine publishing experience in sales, marketing and business development. Publishers she has worked with include: Conde Nast, Times Mirror, The Economist Group, and Outside Magazine.

©2016 Atelier Meridian Fine art printmaking studio - 820 N River St. Studio B-1 Portland, OR 97227- Tel 503-729-9013